VIEWS: 62,019
Hello friends,

When I teach soap making, I am often asked about wrapping handmade soap. Here is a tutorial on how I wrap my soap.

My cold process soaps are simply packaged in cotton muslin bags with a hang tag. The folded business card size tags allow plenty of room for all the ingredients and details required for proper soap labeling as well as giving me space to tell the story of my quality formulated soap.

I cure my soap between two and three months because I prefer the results I get from a long cure time. Handmade soap continues to lose moisture throughout its shelf life so I like to use cotton muslin because it allows the soap to breathe and provides great protection from exposure to light and shelf wear. It is also an eco friendly wrapping.


Here are my finished cold processed soaps as presented for sale. I have one bar open so the customer can see and smell the sample bar. I use a stainless steel deli pin to hold the hang tag. Customers simply match the tag to find the soap they wish to purchase.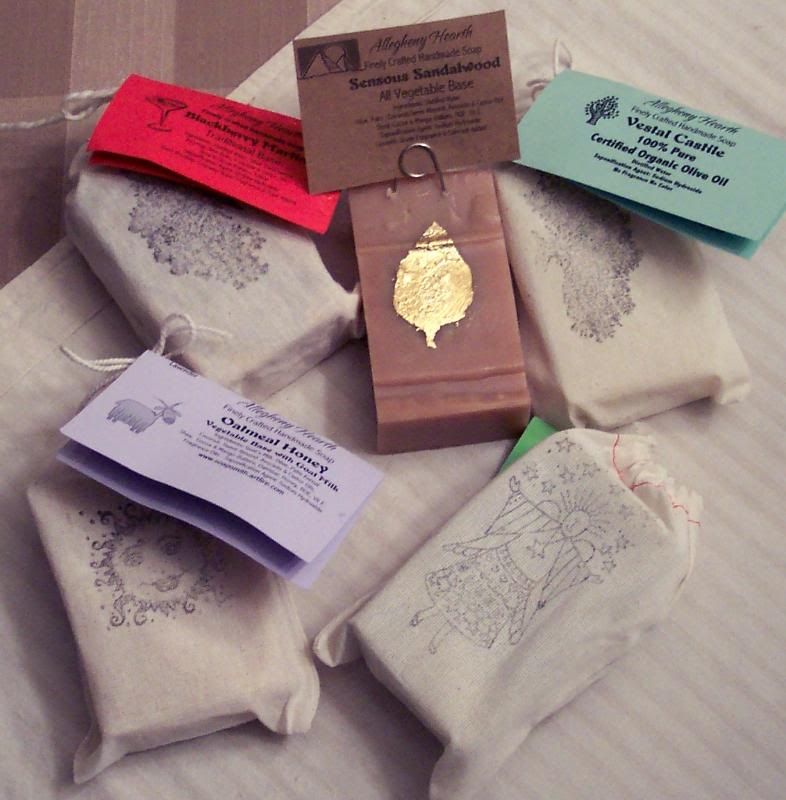 The clear glycerin soaps are different than the handmade cold process soaps. Glycerin soaps are hygroscopic and will draw moisture to themselves. In humid environments the moisture will form on the soap like water droplets form on a cold glass on a hot summer day. After some time, this moisture often develops a film on the soap. While perfectly safe and easily removed with use or a rinse of water, it is not attractive. To prevent this from happening while the soap is in storage or on the store shelves it is necessary to wrap the soap in a way to prevent exposure to the moisture in the air.
The key to keeping the soap from attracting moisture while in storage, in shipping, on store shelves etc is to allow the soap to air dry for a day or two before wrapping. Many soap makers recommend immediately wrapping the MP soap but I find that does not work well. Air drying allows the surface of the soap to harden somewhat and that diminishes the chances of the soap sweating. If you soap is sweating right away, it will sweat over time under your wrapping. You want your customers to be able to store or display the soap without the chance of it attracting moisture. To do that, be sure to air dry the soap well, then use the stretch wrap to protect it from attracting moisture while awaiting use.

I use stretch AEP wrap. Here are some brands that are
readily available on line, at Sam's club and Walmart:

I prefer to use the one with the zip cutter. Regular clear wraps like Saran or Reynolds Clear Wrap do not work as well as the AEP wraps because they don't stretch as easily.

The key is to stretch the wrap before it comes in contact with the soap.

After the first stretch, lower the wrap to make contact with the top of the soap.

Next, stretch and pull the wrap tightly in all directions to achieve a smooth top and sides. Draw all the excess wrap to the back of the soap.

Gather the excess, trim with scissors and press the seams together. The wrap sticks to itself pretty well but you can add a small piece of clear scotch tape if you want more security.

Here is the soap side by side, the orchid soap and one on the left is wrapped. You can see how neatly the stretch wrap works, it is difficult to tell the difference between the wrapped and unwrapped soap.



This process works well for the intricate shaped soaps like
the gemstone and flower soaps as well.



These soaps are wrapped with the stretch wrap before the paper labels are added:



All products available for sale at www.alleghenyhearth.com





I finish my retail presentation by putting the wrapped soap
in a crisp clear cello bag and seal with the label
that provides the labeling requirements of
name, full ingredient list, my contact information etc.



Private label packaging options:
I hope you found this tutorial on how to wrap handmade soap helpful. Thanks for visiting,

Bonnie



Reader's Comments


By Guest on 10/19/2014 @ 07:03amsince i am just venturing out into the melt and pour process, this provided invaluable information to me on contacts and techniques, thank you so much!!



By normasbathandbody on 08/07/2014 @ 10:59pmGreat Job Bonnie!



By Soapsmith on 06/03/2014 @ 10:30pmSure, you could put a soap wrapped with the stretch wrap and pop that into a muslin bag. You could find a neat stamp of a jolly roger, pirate ship, or pirate chest to stamp the muslin bag. Or maybe some toy pirate coins in the bag, too. Cute! When I do the glycerin soaps for weddings, showers and party favors I put the AEP wrapped soaps into the organza bags. They work fine.


By Guest on 06/03/2014 @ 09:51pmcould you take the soap wrapped AEP and then put it in a muslin bag? I am wanting to make this as gifts and I want something that looks piratety (is that even a word?)


By Guest on 05/30/2014 @ 06:11pmI am very inspired by your beautiful soaps and puffs. Nice.



By Soapsmith on 05/28/2014 @ 04:50pmThe AEP wrap is a stretch plastic wrap. It is similar to saran wrap type of products but it stretches. AEP is the company that developed it. If you find any food safe stretch wrap, it should work fine. The key is to have the stretch. You can google AEP stretch wrap and find many sources. I get mine at restaurant supply stores or Sam's Club. I do not use any plastic, stretch or shrink wrap on my cold process soap, just the glycerin soaps. I only use the muslin bags for my CP soap. Hope that helps.


By Guest on 05/28/2014 @ 03:25pmwhat does AEP mean for the plastic wrap for glycerine soap? Is this a brand?


By Guest on 11/14/2013 @ 04:46amBeautiful soaps!



By Soapsmith on 07/16/2013 @ 12:20pmHi, I do get mine on line. I use packcoinc.com. I buy them 1000 at a time but they sell them in 100 pack sizes. They have the best prices, but you can always check around. The last time I got them they were 15 cents each including shipping. They are called "muslin parts bags" Just note that the sizes are a little smaller than the measurements. I use the 4 X 6 inch but they are more like 3.5 X 5.5.


By Guest on 07/16/2013 @ 05:09amwhere can you purchase cotton muslin bags? (besides online)


By Guest on 05/03/2013 @ 02:46amVery helpful info and pictures.


By Guest on 03/19/2013 @ 12:10amThank you for your certain information. you are very good and i like your instruccions. ADA



By Soapsmith on 12/31/2012 @ 05:47pmThe cold process soaps are shown in the first photo, they are wrapped with cotton muslin bags and hang tags. The AEP stretch wrap is MP soap. I never wrap my Cold Process with anything but the natural cotton muslin bags. Hope that helps.


By Guest on 12/31/2012 @ 04:31pmIs this more more melt and pour soaps? I thought cold processed soaps need to "breathe".


By Guest on 12/20/2012 @ 04:39amHi!! Thanks for all the info!! and Blessing and much success for your busi


By Guest on 07/22/2012 @ 10:27pmLove your instructions. I want to try the gemstone soap rocks and saw that tutorial as well. I just love the way you explain things; very easy to understand. I've never made soaps before but want to get started and you really inspired me. Thanks so much. Tatiana


By Guest on 07/18/2012 @ 12:49amthanks so much!!!! The pics are of great help!



By Soapsmith on 07/01/2012 @ 10:21pmSure, I will email the pics.


By Guest on 07/01/2012 @ 11:52amThank you so much for posting this information. I am unfortunately unable to pull up the pictures. I am just beginning to try and sell my cold process handmade soaps. I wish I could see the picture of yours. If you don't mind emailing me a picture of it, I sure would appreciate it. My email address is: pcstrickland@sbcglobal.net Thank you so much!